What are Meli Wraps?
Meli Wraps Beeswax Wraps are a reusable alternative to plastic wrap, container lids, and plastic sandwich bags. Meli Wraps was founded to keep single use plastic out of our oceans, and so far we've helped keep over a million pounds of plastic out of the oceans. And we're just getting started.
Made with:
🐝 100% GOTS Certified Organic Cotton
🐝 Hawaiian Beeswax
🐝 Natural tree extracts
Lasts 150+ Washes!
Longest-lasting beeswax wraps. Seriously! We've tested. Average life of 1-2 years with typical use.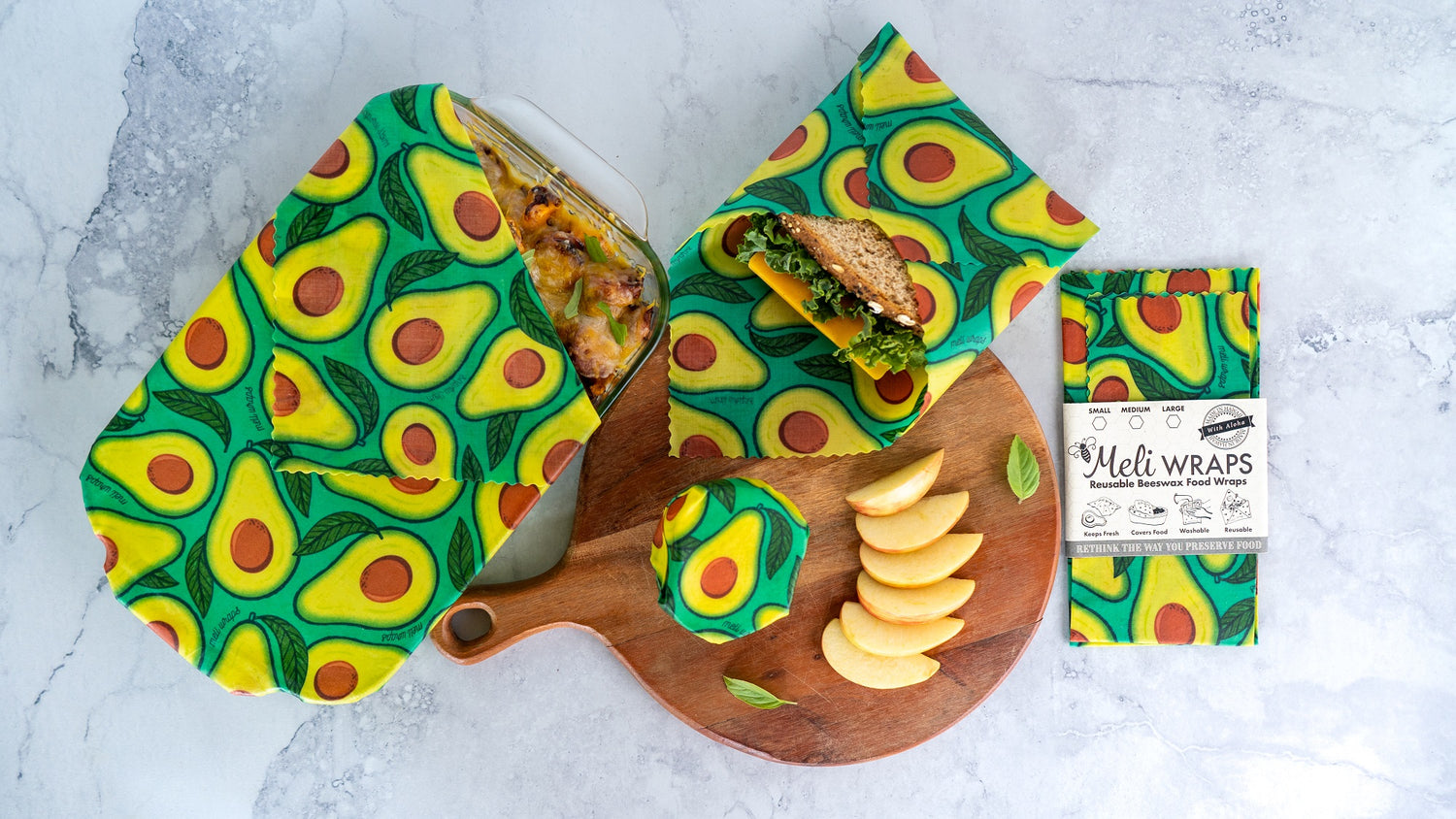 30 Day Money Back Guarantee
Give Meli Wraps a try! Our money-back guarantee says if not satisfied just contact us for a return within 30 days, and we'll return your money - no questions asked!
(you're gonna love them)
Sticky & strong. Folds into an envelope. No strings needed.
Try that with other beeswax wraps. We dare you.
LOVE, LOVE, LOVE!!
LOVE my Meli Wraps! They make lunch look so trendy and love that they are environmentally friendly. They seal really well, unlike some plastic wraps, and are reusable, which saves some money in the long run. Highly recommend!
Best beeswax wrap and masks!
I love these wraps--they are the best on the market--not too thick, perfect for forming around the top of a dish or a bowl, or around a piece of fruit. The small size is my fave, but I also love the continuous roll! I bought some to give as gifts. I also love their masks! They are my favorite!
LOVE my new wraps
I purchased these wraps in order to cut down on my use of plastic. So far, I'm SO happy. I made bread and used them to cover the bowl, then wrap the bread once it was finished. These wraps kept the bread very fresh- more so that when I used plastic. They're also so pretty! Have to hide them from my children who want to use them for crafts. These are just for me!
Thanks Debra! We are so happy you love them. Children are drawn to them like you mentioned for crafts etc! Maybe the colorful designs:)