What are Meli Wraps?
Meli Wraps Beeswax Wraps are a reusable alternative to plastic wrap, container lids, and plastic sandwich bags. Meli Wraps was founded to keep single use plastic out of our oceans, and so far we've helped keep over a million pounds of plastic out of the oceans. And we're just getting started.
Made with:
🐝 100% GOTS Certified Organic Cotton
🐝 Hawaiian Beeswax
🐝 Natural tree extracts
Lasts 150+ Washes!
Longest-lasting beeswax wraps. Seriously! We've tested. Average life of 1-2 years with typical use.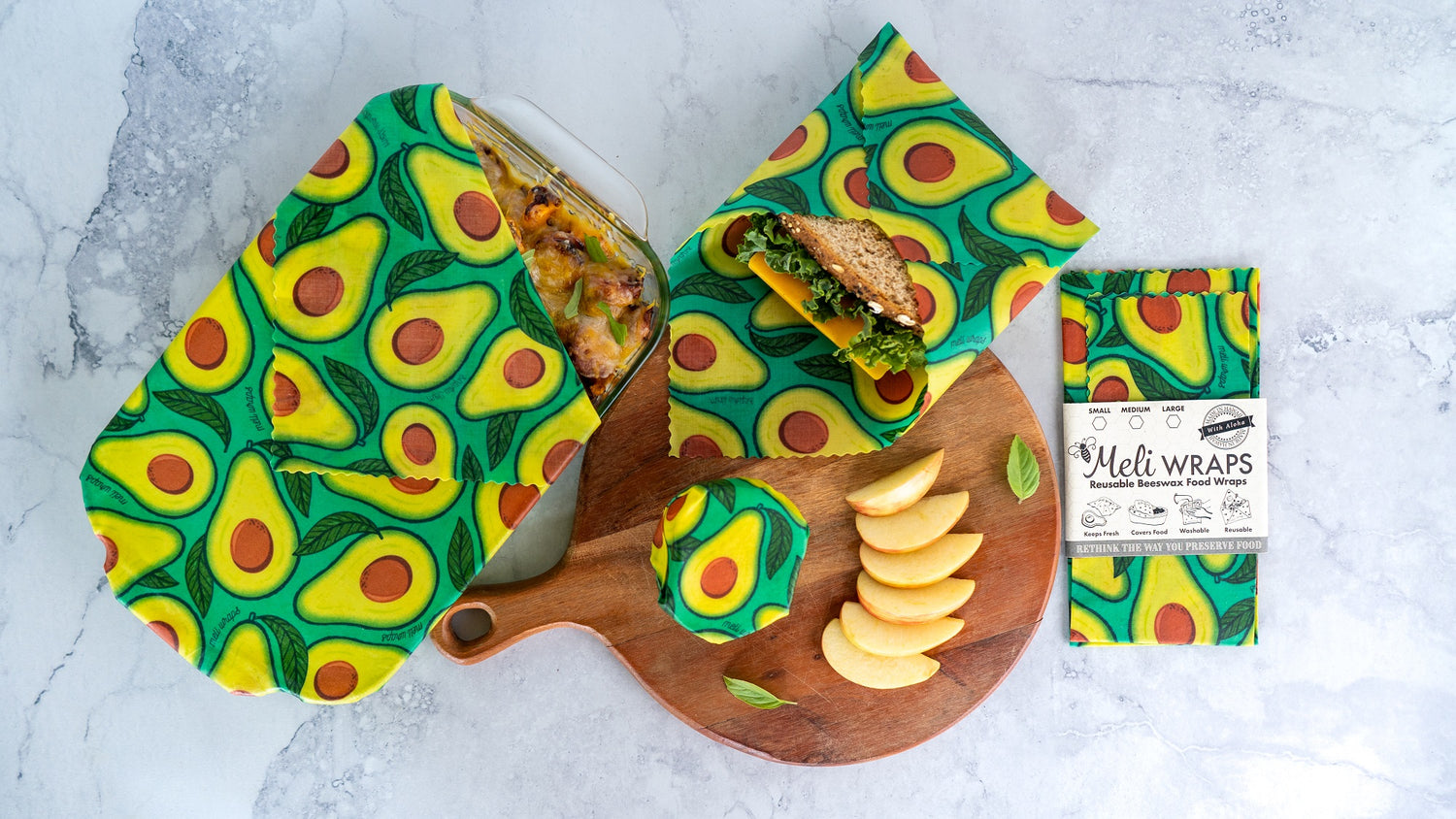 30 Day Money Back Guarantee
Give Meli Wraps a try! Our money-back guarantee says if not satisfied just contact us for a return within 30 days, and we'll return your money - no questions asked!
(you're gonna love them)
Sticky & strong. Folds into an envelope. No strings needed.
Try that with other beeswax wraps. We dare you.
Meli wraps
These reusable food covers are fun and practical. Support your local businesses and environmentally friendly at the same time!
Awesome!
I just can't get enough of this shark print.
This three pack is perfect!
101 Uses
It seems like every day I find something else to use my Meli wraps for. Right now they're covering leftovers, wrapping avocados, serving as a lid on a pill jar that lost its top, and generally displacing plastic wrap and bags.
I love Meli Wrap!
Love it!
Fun prints and so practical. Love it!
Great product
I received the 3-set as a gift and was so happy with it, I decided to purchase it as a gift as well. It is a great reusable alternative to plastic; it seals well over containers and it's easy to clean and store. I also use it to cover and preserve fruits and veggies. The various sizes allow for multiple uses.