What are Meli Wraps?
Meli Wraps Beeswax Wraps are a reusable alternative to plastic wrap, container lids, and plastic sandwich bags. Meli Wraps was founded to keep single use plastic out of our oceans, and so far we've helped keep over a million pounds of plastic out of the oceans. And we're just getting started.
Made with:
🐝 100% GOTS Certified Organic Cotton
🐝 Hawaiian Beeswax
🐝 Natural tree extracts
Lasts 150+ Washes!
Longest-lasting beeswax wraps. Seriously! We've tested. Average life of 1-2 years with typical use.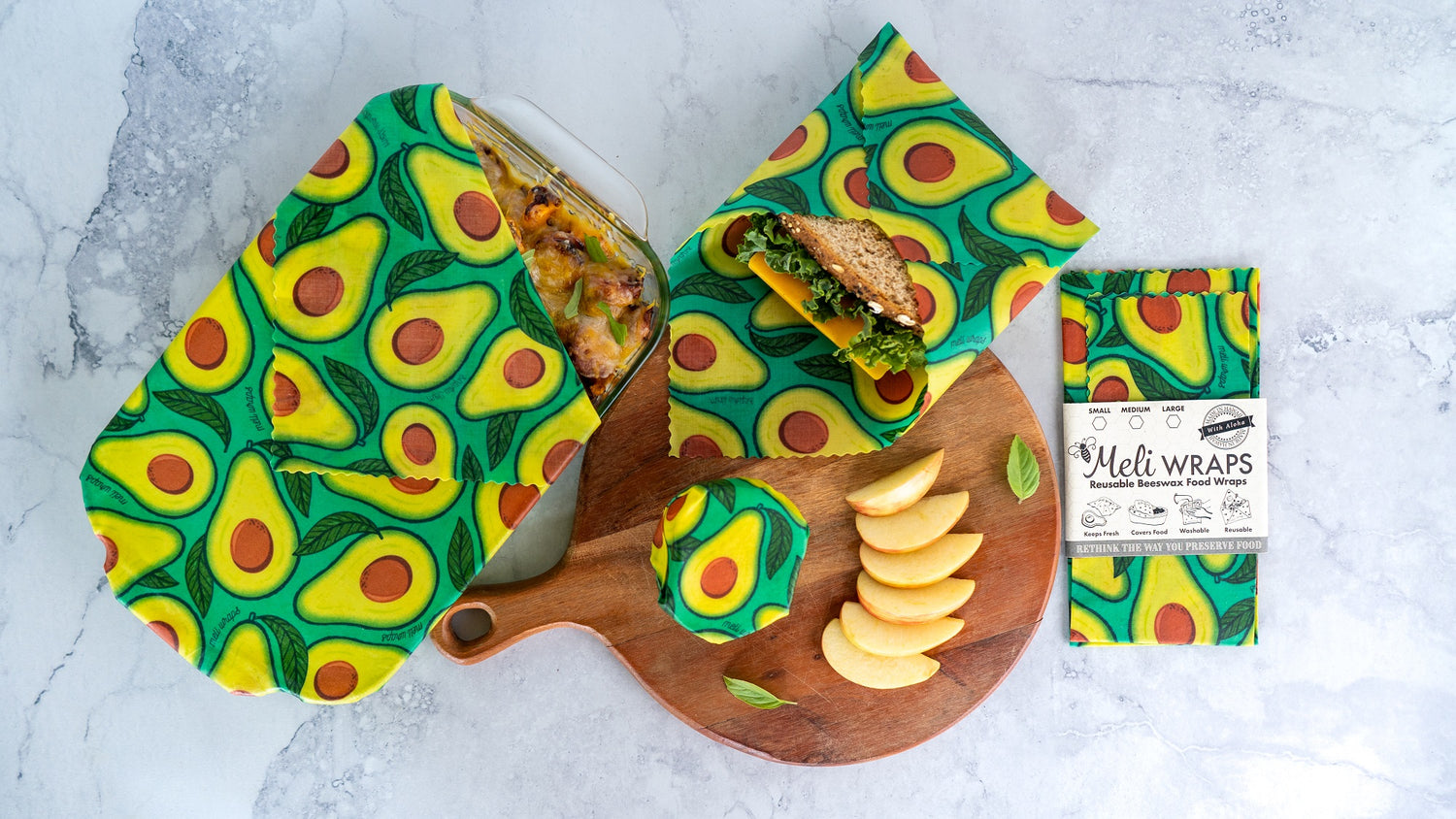 30 Day Money Back Guarantee
Give Meli Wraps a try! Our money-back guarantee says if not satisfied just contact us for a return within 30 days, and we'll return your money - no questions asked!
(you're gonna love them)
Sticky & strong. Folds into an envelope. No strings needed.
Try that with other beeswax wraps. We dare you.
Love this mask!
It's cotton and very breathable and comfortable. Not hot or clingy. I put a few drops of my favorite essential oil on it after I wash it and when I have it on I love the smell!
Lovely Hawaiian Print Mask
This mask is so cute Hawaiian print! It fits me well and comfortable!
Highly recommended in this COVID-19 pandemic!!!
Fun prints!
I've enjoyed other Meli Wraps purchases so when they made masks in my favorite prints I had to pick them up. Great shape that fits well on my face and easy, no fuss care.
Only suggestion would be to include longer elastics for the ear. I have a larger face and appreciate the option to tie the loops to fit my face but the ties were too short. Bought a spool of my own and it's easy to do.
Thanks for bringing some aloha to my everyday outfits :hibiscus:
Fits great
I have a very small mouth, so I was worried it wouldn't fit. It is perfect though. I love the full coverage and it's super lightweight and comfortable.
Stylishly Comfy
I love this mask! It's very comfortable with the stretchy "ear loops" and I've gotten SO many compliments on it not only for the print, but also for the shape of it. It makes the mask a wardrobe piece as opposed to feeling like I'm putting on this eerie sterile mask.