What are Meli Wraps?
Meli Wraps Beeswax Wraps are a reusable alternative to plastic wrap, container lids, and plastic sandwich bags. Meli Wraps was founded to keep single use plastic out of our oceans, and so far we've helped keep over a million pounds of plastic out of the oceans. And we're just getting started.
Made with:
🐝 100% GOTS Certified Organic Cotton
🐝 Hawaiian Beeswax
🐝 Natural tree extracts
Lasts 150+ Washes!
Longest-lasting beeswax wraps. Seriously! We've tested. Average life of 1-2 years with typical use.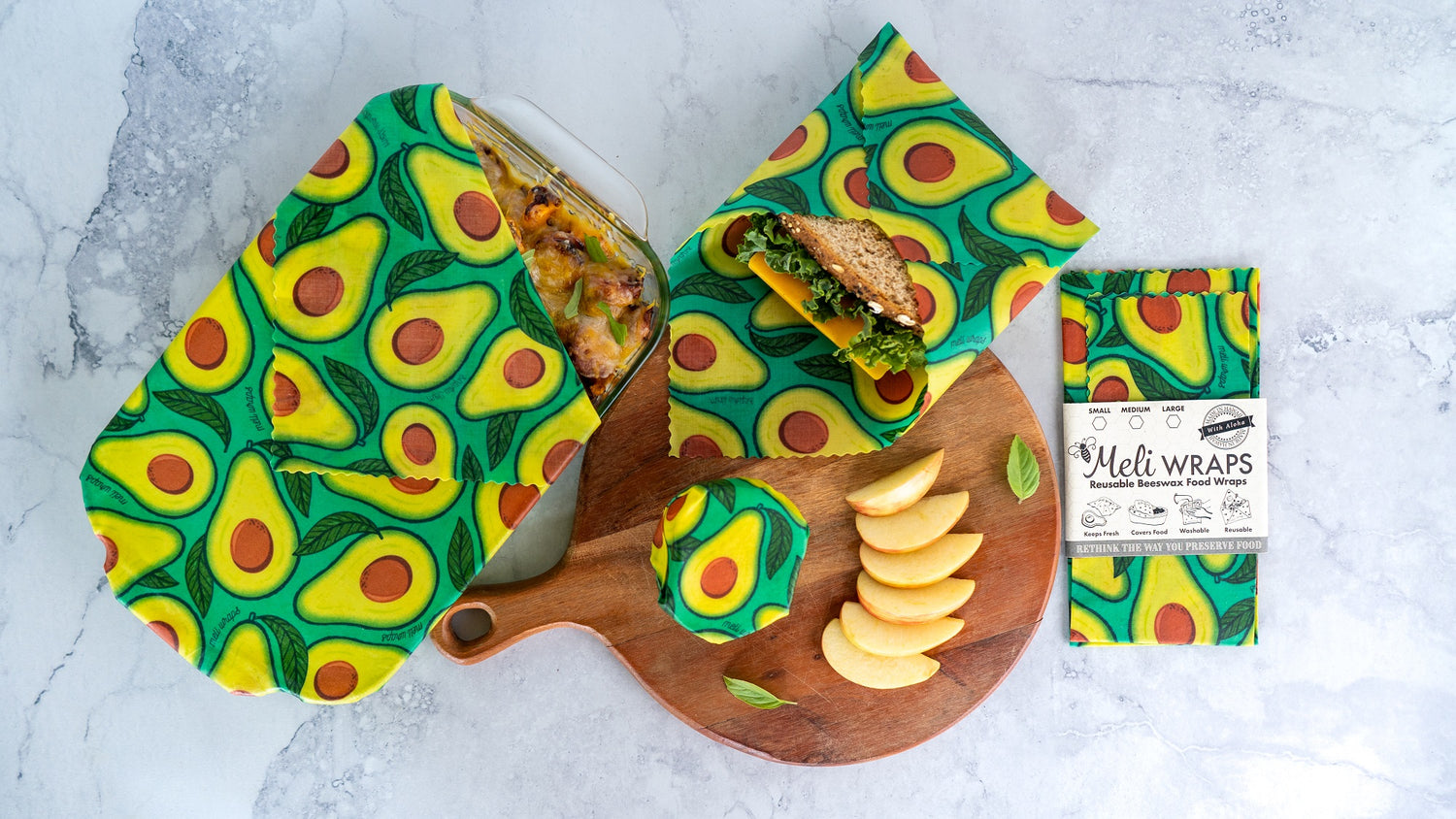 30 Day Money Back Guarantee
Give Meli Wraps a try! Our money-back guarantee says if not satisfied just contact us for a return within 30 days, and we'll return your money - no questions asked!
(you're gonna love them)
Sticky & strong. Folds into an envelope. No strings needed.
Try that with other beeswax wraps. We dare you.
My friend loved them!
I bought these for my friend because she loves handy household items, but also because her name is Melissa and I call her Meli. The fact that there are cute tropical prints was just perfect. We both strive to be eco friendly so it was a great gift. And the CX was great.
Great!
My favorite thing is buying baguettes at the club stores. I have been wrapping them in plastic wrap although honestly after a couple of days they start to taste like the plastic. This time I wrapped in my Meliwrap. I must say I am thrilled. No off taste, bread has stayed nice and soft, it is super easy to use. I am a beliver
The perfect stocking stuffer
I love these cute and colorful wraps. I'll be giving them away to girlfriends as Christmas gifts this year!
Versatile, fun mix of patterns!
Versatile, fun mix of patterns!
Ordering more!
Great design and perfect alternative to plastic cling wrap. We've wrapped cheese, fruits, and veggies so far. We're ordering some more now!