What are Meli Wraps?
Meli Wraps Beeswax Wraps are a reusable alternative to plastic wrap, container lids, and plastic sandwich bags. Meli Wraps was founded to keep single use plastic out of our oceans, and so far we've helped keep over a million pounds of plastic out of the oceans. And we're just getting started.
Made with:
🐝 100% GOTS Certified Organic Cotton
🐝 Hawaiian Beeswax
🐝 Natural tree extracts
Lasts 150+ Washes!
Longest-lasting beeswax wraps. Seriously! We've tested. Average life of 1-2 years with typical use.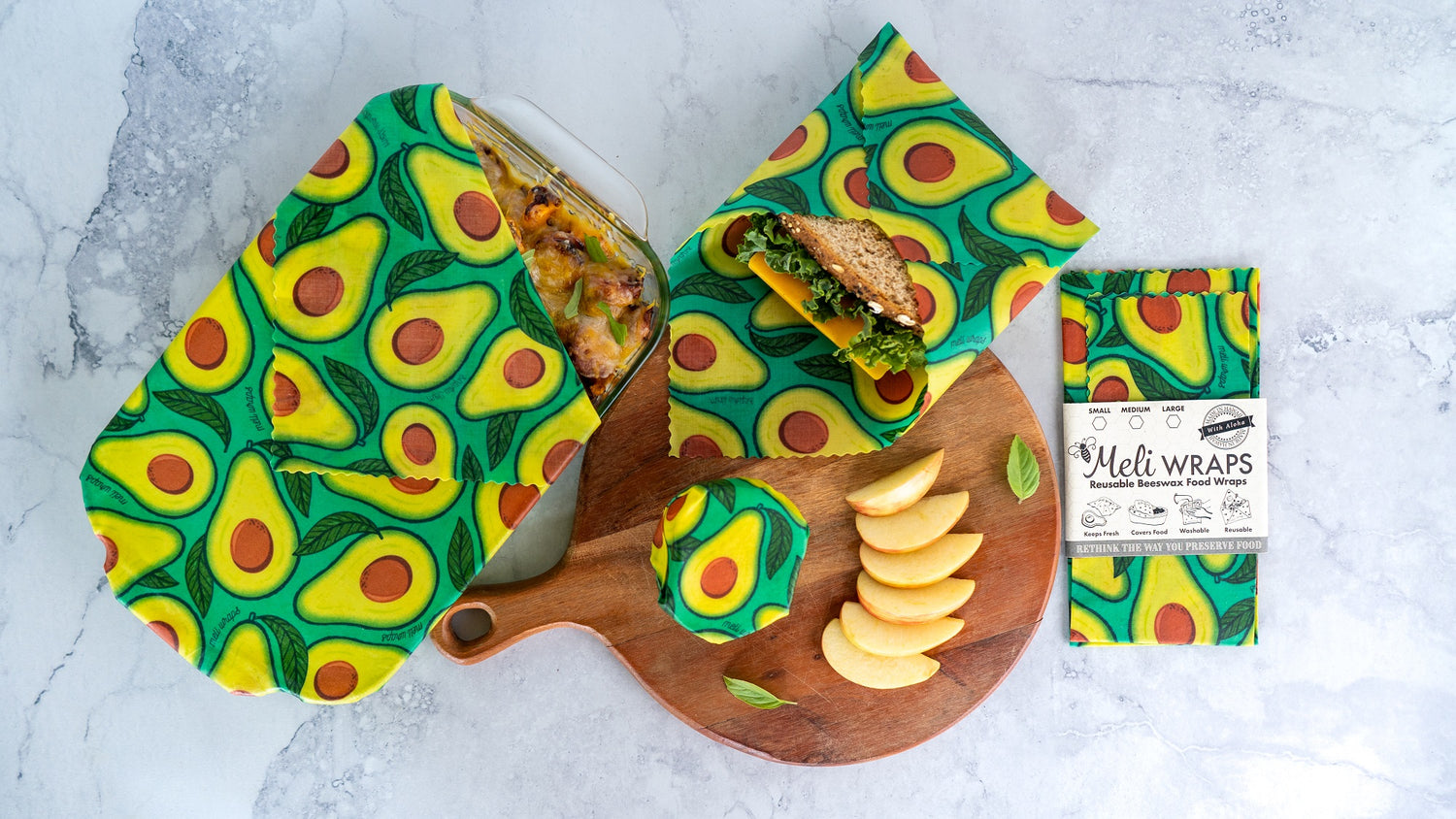 30 Day Money Back Guarantee
Give Meli Wraps a try! Our money-back guarantee says if not satisfied just contact us for a return within 30 days, and we'll return your money - no questions asked!
(you're gonna love them)
Sticky & strong. Folds into an envelope. No strings needed.
Try that with other beeswax wraps. We dare you.
A happy refrigerator
I love the colorful wraps. They certainly brighten up the fridge. I think I will have more use of the small size and to do that I should probably buy a roll. Friends will be receiving variety packs for the holidays/birthdays. A wonderful idea and a way to keep my beloved Kauai in my mind.
The best bee wax product
I have owned Meli Wrap for a several years.
Their quality and design is the best.
"In Transit to Next Facility, Arriving Late"
It's been "in transit" for 9 days with no update from USPS. I think the item is lost.
I love the assortment pack of different sizes and colorful patterns! I have been giving them as gifts to introduce waxed wraps to friends to use instead of plastic bags and wrap. They really stick and seal so well!
Still going... after 5 years
We purchased our Meli wraps on Kauai in summer 2017 - they're going on 6 years now and still the binding is pretty good - only now are we questioning replacement.
Super quality, won't buy from anyone else.