What are Meli Wraps?
Meli Wraps Beeswax Wraps are a reusable alternative to plastic wrap, container lids, and plastic sandwich bags. Meli Wraps was founded to keep single use plastic out of our oceans, and so far we've helped keep over a million pounds of plastic out of the oceans. And we're just getting started.
Made with:
🐝 100% GOTS Certified Organic Cotton
🐝 Hawaiian Beeswax
🐝 Natural tree extracts
Lasts 150+ Washes!
Longest-lasting beeswax wraps. Seriously! We've tested. Average life of 1-2 years with typical use.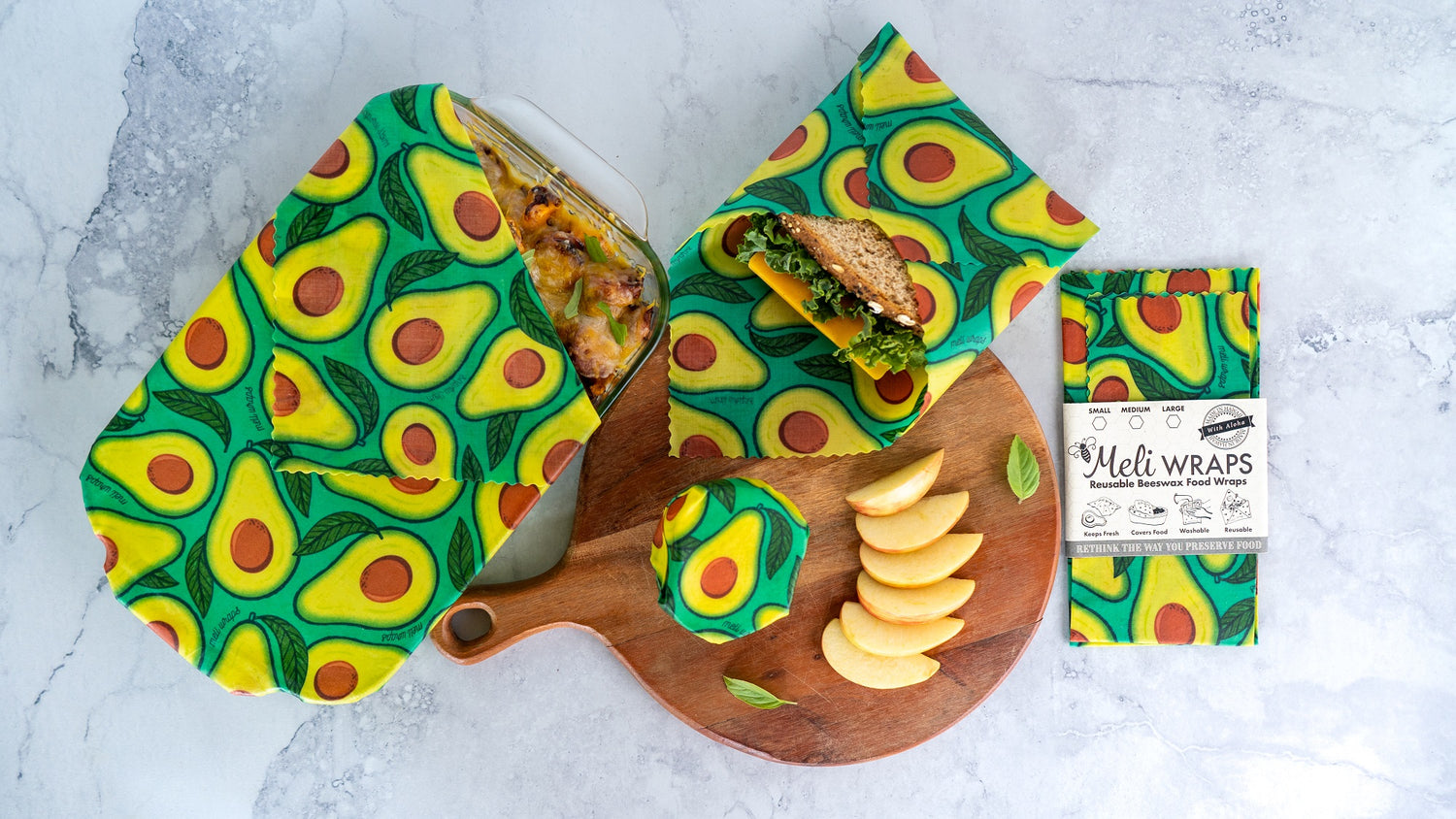 30 Day Money Back Guarantee
Give Meli Wraps a try! Our money-back guarantee says if not satisfied just contact us for a return within 30 days, and we'll return your money - no questions asked!
(you're gonna love them)
Sticky & strong. Folds into an envelope. No strings needed.
Try that with other beeswax wraps. We dare you.
Perfect
Got these to make my work lunches more eco friendly, and they're cute, and work so well. Will likely buy more.
cute prints and a great
cute prints and a great product overall
Thank You Ana! We love creating new prints:)
Cute and perfect for all sizes
Love the cute prints! Makes me feel good knowing I'm not adding more plastic to our environment. Takes a little getting used to but I love them! Will be getting more for sure. Thanks!
Love, Love, Love Happy Cheerful Prints on Fabulous Sustainable Product!
I have so appreciated a friend gifting me a similar set almost a year ago, and I'm thrilled to share them with more friends in the new Ocean prints. So bright, happy, and joyful - perks up your fridge! Wraps are better than both saran and foil, and they are so much better for out environment! No failure to adhere to itself, tearing, or leaking. Get them - you will be so happy you did!