What are Meli Wraps?
Meli Wraps Beeswax Wraps are a reusable alternative to plastic wrap, container lids, and plastic sandwich bags. Meli Wraps was founded to keep single use plastic out of our oceans, and so far we've helped keep over a million pounds of plastic out of the oceans. And we're just getting started.
Made with:
🐝 100% GOTS Certified Organic Cotton
🐝 Hawaiian Beeswax
🐝 Natural tree extracts
Lasts 150+ Washes!
Longest-lasting beeswax wraps. Seriously! We've tested. Average life of 1-2 years with typical use.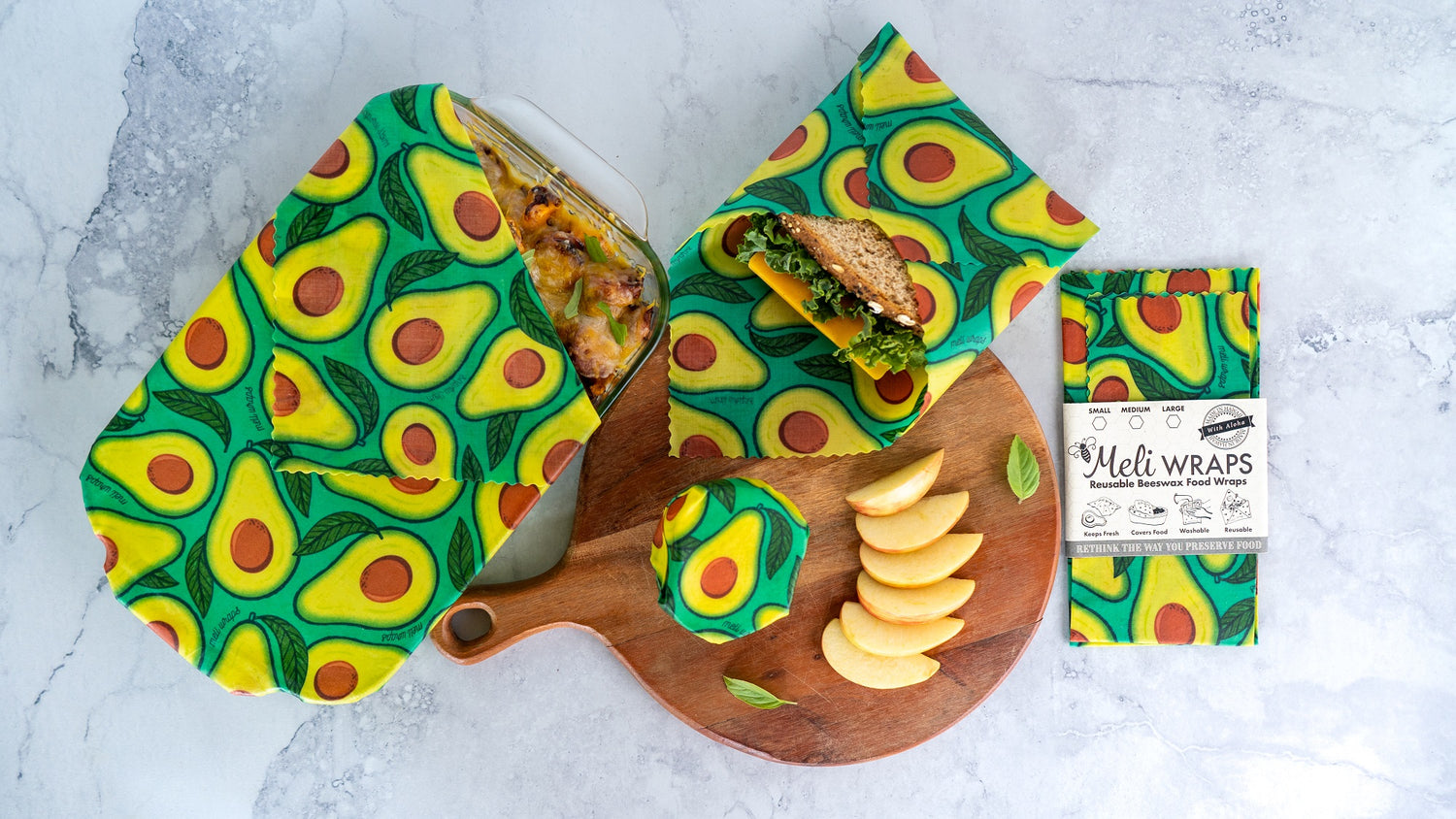 30 Day Money Back Guarantee
Give Meli Wraps a try! Our money-back guarantee says if not satisfied just contact us for a return within 30 days, and we'll return your money - no questions asked!
(you're gonna love them)
Sticky & strong. Folds into an envelope. No strings needed.
Try that with other beeswax wraps. We dare you.
Reusable Cutlery Set Shark
I got the shark set for my husband to keep in his car. We like these so much I bought 5, one for each family member! I also love that we aren't contributing to one-use plastic! Doesn't hurt that they are beautifully created and feel nice in your hand.
Love it!
Perfect for a packed lunch and also travel!
We love them
For lunches also! So happy you got the shark print! It's a favorite:)
Eco friendly has never been so cute!
High quality flatware in a gorgeous rose gold/copper color wrapped in an adorable sharky bag! I love this set! I was a bit surprised by how big the flatware is....I like it but would probably prefer it be a bit smaller so it would be easier to tote around. The bag is heavy for its size because it is seemingly higher quality. Also love the straw and pipe cleaner that come with it!
A MUST GET
i got the Sharky Shark for my boyfriend and i got the Lau design. the little travel bags are so great and will fit perfectly in your bag. it's not bulky which is awesome. just remember to remove the knife when traveling on the plane if you're carrying it on. it was so convenient when we got food from a bed or at the Honolulu City Lights.