What are Meli Wraps?
Meli Wraps Beeswax Wraps are a reusable alternative to plastic wrap, container lids, and plastic sandwich bags. Meli Wraps was founded to keep single use plastic out of our oceans, and so far we've helped keep over a million pounds of plastic out of the oceans. And we're just getting started.
Made with:
🐝 100% GOTS Certified Organic Cotton
🐝 Hawaiian Beeswax
🐝 Natural tree extracts
Lasts 150+ Washes!
Longest-lasting beeswax wraps. Seriously! We've tested. Average life of 1-2 years with typical use.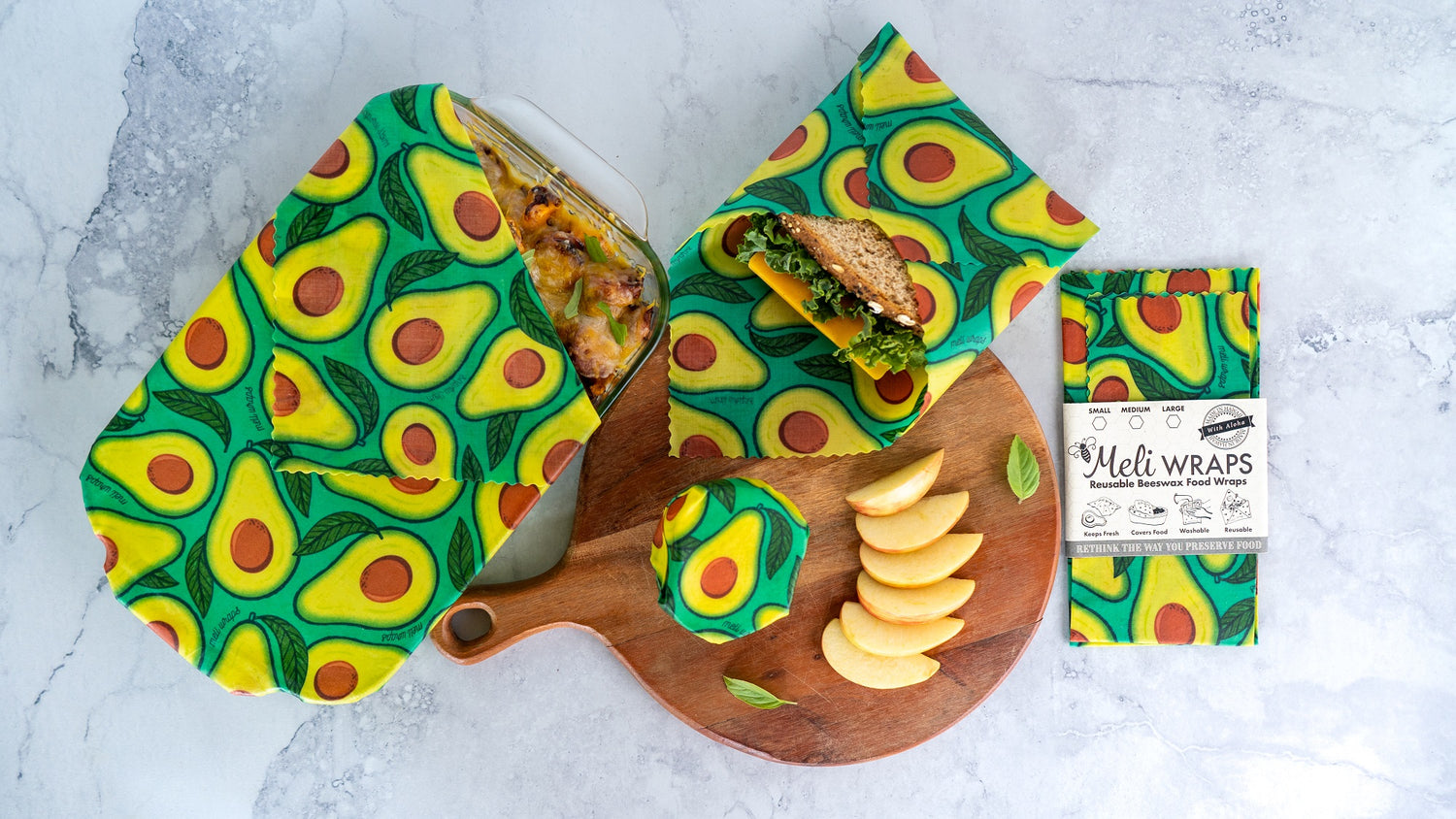 30 Day Money Back Guarantee
Give Meli Wraps a try! Our money-back guarantee says if not satisfied just contact us for a return within 30 days, and we'll return your money - no questions asked!
(you're gonna love them)
Sticky & strong. Folds into an envelope. No strings needed.
Try that with other beeswax wraps. We dare you.
Our go-to wax wraps!
After trying a few brands of wax wraps and not being satisfied with the stick we purchased a set at a craft fair on a whim and have never turned back! The roll was our third purchase. The pattern is fun, the quality is is what we know and love, AND now we can cover our giant rectangle casserole dish with wax wraps instead of saran wrap! It's a win all around. We'll be back when our current supply wears out.
Papaya Happy
Love the wrap of my favorite fruit! And I have wrap to share with friends!
Thick, high quality covering
Love the idea of cutting my own size! I cut a big sheet of this to replace single-use plastic wrap, yay!
Goodbye single use plastic!!
Finally!! I have been looking for beeswax wrap that can be cut into any size and this is perfect! You get so much wrap! The print is so cute, it's so affordable, it seals all my food, I will never go back to plastic wrap! Thank you Meli Wraps!
Thank You Miya! This means a lot to us:)